PEFC Timber
Action specializes in wooden climbing frames. At no extra cost to you, wooden climbing frames offer the same structural stability as metal versions yet blend in with its surroundings and will age and weather beautifully. As timber has variations in grain and knots you also receive the extra bonus of a truly unique climbing frame.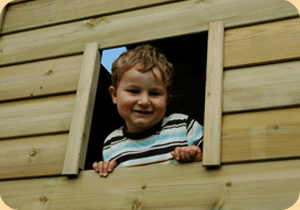 To preserve your climbing frames life we undergo a series of steps to ensure you receive the maximum lifespan of your climbing frame. Once we have selected and machined our chosen timber, all edges are planed smooth with rounded edges and all fixing holes and recesses pre drilled. This entire process is carried out to 1mm precision to ensure maximum quality. Finally we pressure treat the timber using a non-toxic chromium / cadmium / arsenic free solution specifically approved for children's playground equipment.
As wood is a natural material, over time cracks or splits may appear. Caused by the fluctuating moisture content in the air and ground splitting is unfortunately inevitable. Although it will not affect the structural stability of your product, here at Action we have tried to minimize them by only machining rectangular sections. Stronger than the alternative round section, rectangular timber contains less heartwood meaning the chance of cracks and splitting will be greatly reduced
Action climbing frames only use the finest wood. For years we have researched into which timber makes the perfect Climbing Frame, and after much deliberation we have decided to use top grade PEFC pine.

This timber is not only a beautiful, high quality material but it is also felled from a sustainable source therefore ensuring the social, economic and ecological needs of future generations.
The PEFC Council is an independent, non profit, non-governmental organization which promotes the sustainability of harvesting timber. At present the PEFC runs 25 national schemes and has over 1,000,000 km2 of forest certified making it the largest timber certification scheme.
To find out more about the Program for the Endorsement of Forest Certification scheme Click Here