Monmouth Twin Towers Climbing Frame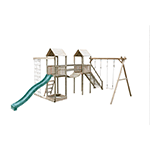 The Monmouth Twin Climbing Frame offers extraordinary play value and strong, sturdy quality.
Children love the fun and excitement of running from one tower to the next along the clatter bridge which connects the two 90cm x 120cm wooden towers. Each of the 1.5m high wooden platforms is big enough for friends and siblings to play together on at the same time.
The platforms can be accessed by a commando net and a staircase designed with smaller children in mind.  The base of the tower provides a 1.2m x 90cm sandpit with two wooden seats which has plenty of room for friends to join in the fun. There is even the most traditional of all garden play equipment – two pine wood swings!
2 x 90cm x 120cm wooden tower
2 x Wooden roofs
2 x 90cm x 120cm wooden platforms – 1.5m high
Wooden access ladder
Commando net
3m Double Swing Arm
2 x adjustable wooden seats
3m  wavy slide
Sandpit with four wooden seats
Clatterbridge
Wooden staircase specially designed for little legs