Monmouth Climbing Frame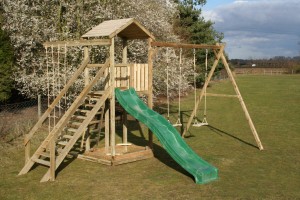 Perfect for larger families with children of varying ages.  This large rectangular tower features a pitched wooden roof and large 1.2m x .9m platform great for adventures come rain or shine. The platform is accessed by either the poly hemp rope commando net or sturdy wooden staircase which has been designed with little legs in mind.
The base of the tower has been used to provide an integrated sandpit with seats, with room for friends to join in the digging fun.  There is also a swing arm that offers two pine wood swing seats and a knotted climbing rope for testing strength and agility.
This brilliant frame even offers a 3m wavy slide for quick exits which is available in a range of run and funky colours.
90cm x 120cm wooden tower
Pitched wooden roof
90cm x 120cm wooden platform  – 1.5m high
Wooden access ladder
Commando net
3m Double Swing Arm
2 x adjustable wooden seats
3m wavy slide
Sandpit with four wooden seats
Wooden staircase specially designed for little legs