Gate Lodge Wooden Climbing Frame without Lower Den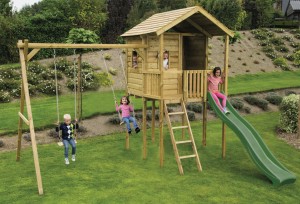 The Gate Lodge without the lower den section is still a wonderful and substantial climbing frame offering the same fantastic play house/hang out space for your children as the original Gate Lodge frame. This more compact version includes a den space raised up on a 1.5m platform with ship-lap wooden sides, 3m slide (available in three funky colors) and great double swing arm with pine wood swing seats. The lower den area is now open and can be used as a storage space if needed.
This 1.8m square Gate Lodge has a great front balcony and the den is perfect for both older children who need a space away from the house to chill and for younger children who use the space as a playhouse. The Tower is accessed by a 4 rung ladder that can be fixed to the front or side and the two pine wood swing seats come with strong and durable Poly Hemp ropes. A third swing seat or accessory can be added to the extra swing hanger to add even more fun.
The play potential on this frame is really only limited by your children's imagination.
Includes
1.8m square wooden tower 3.58m high
1.8m x 1.2m wooden playhouse 2.08m high
Pitched wooden roof
Wooden balcony 1.8m long & 60cm wide
Wooden ladder
Double swing arm 3m long
2 x adjustable wooden swing seats
3m wavy slide